The trip to Luxembourg gave your Club Directors a rare opportunity to hear from and chat with the XPart Sales and Marketing Director for Europe, Pascal Born.
Pascal and his colleagues had accepted an invitation to present to Club 75 members at their International Treffen held in Luxembourg, 26 to 28 May. In total ten 75 and ZT Club members attended from the UK including three Club Directors, Ken, Mike and Christopher.
It would take up many pages to relate everything that Pascal shared – this briefing gives the highlights and is illustrated with many of his pictures from the NAC 60th Anniversary Celebrations and Launch of MG Cars.
Following his presentation Pascal and his colleagues kindly took time to meet with The Club Directors and to answer our many and wide-ranging questions.
But first the pictures
Welcome to NAC and MG Cars!

Some familiar names
And familiar cars

The 'Beatles' entertain.............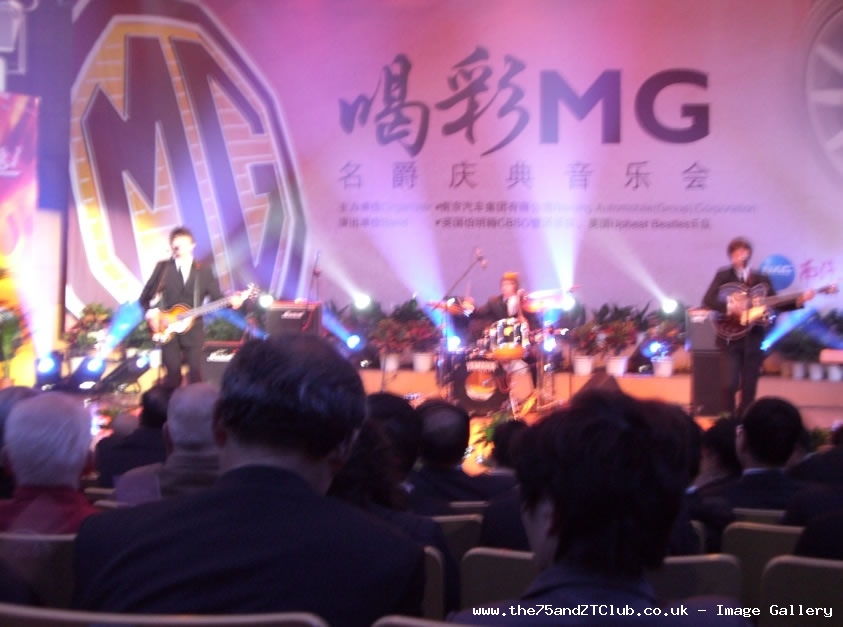 New metal?
A familiar face in new surroundings
TF.....or F?
Welcome to the new MG HQ
From open space to operational factory in less than two years
Inside the factory
Launch Fireworks
NAC and XPart top management
The Roll of Honour
And what we asked about and heard…………………
Parts supply
XPart have begun a programme to find new manufacturers for the more unreliable parts for our cars. The Bosch MAF sensor for Diesel versions was mentioned where XPart are using the market muscle and massive resources offered by the Caterpillar parent company to commission alternative design and production of more reliable and long lasting units. The new part, sensor element ZUA000050SLP fits all M47 Diesel power units, and is a direct replacement for the original part number MHK101130.
If XPart is able to continue this new push to provide more reliable parts then we will all benefit.
NAC and SAIC
XPart are already an NAC partner. In the future they may also work with SAIC, though nothing has been agreed or decided to date.
Interestingly production of the NAC MG7 should offer high levels of parts compatibility, and therefore availability, with our own cars. Xpart invested significant energies to 'back engineer' parts for our cars because there were no drawings etc. to work from. This massive project was essential to ensure long term supply of parts for existing MG Rover models and without it we all would have faced significant problems in keeping our cars on the road. Hopefully XPart will be supplying parts for NAC cars - good news for us

The SAIC Roewe 750 is a different story. Because SAIC only started with ip rights and nothing else basically Ricardo in Leamington Spa have designed what is technically and parts wise a totally different car. The Roewe is not compatible with our cars in any way and therefore we cannot look to the SAIC model for future parts supply.
Even more interestingly, and despite reports elsewhere, the decision about the 750 being sold under the SSANYONG brand is yet to be made. As is the decision about if and when the car will ever be made available to UK customers.
For both companies the Chinese market is the priority - speculation about large production for, or assembly in, other world markets (including the UK) is at this time just that, speculation.
XPart
XPart is continuing its work to develop and grow the numbers and quality of its Service Centre franchises as a key element of its business. Support for MGR cars will continue, though with the average age of such cars now being 9 years (that's the average!) the company is realistic about the levels of business Rover and MG Cars offer them. Unlike the enthusiasts we are, most people owning a 10 to 15 year old car either use back street garages and aftermarket parts for maintenance and servicing, or diy.
The XPart partnership with NAC should offer Club Members some guarantee of longer term future parts supply, but I feel the same may be unlikely for very old models as the economics will reach a point where returns are not sufficient or do not exist.
XPart, despite their broadening parts and servicing base, are clearly committed to supporting Rover and MG owners wherever they can. XPart has Rover DNA running through it and the enthusiasm for the cars, and supporting them on the road, was very evident. It is encouraging to have XPart parts and services available now and even more so to hear of their future plans.
Watch this space for more NAC and XPart news.

Pascal (centre) with Douwe A van der Noord XPart Project Manager for Benelux (left) and Juergen Troles from CAT Germany on the right, pictured at the Chateau in Luxembourg
Pascal deep in discussion with club members